Review of Leamington Chess Club Season – 2015-16
Leamington had an outstanding season this year, winning a good share of the league silverware, both in team matches and individually.
League
The A team held fast in a competitive Division 1, consolidating their position, having returned to the top flight at the start of the season. Captain Tom Darling won 57% from 14 games, losing only three times. The team were ably abetted by new member Blake Morgan holding his own on the top board of the league.
Due to unforeseen circumstances the B team had to drop out of division 2.
The C team were joint winners of Division 3, winning 10 and drawing 1 match out of the 15, with their victory sealed in a nail-biting final result which was out of their hands. In a very welcome return to the club, Rob Gill scored an awesome 88%, taking 3.5 points out of 4 on a competitive board 1. Bogdan Boraciu took a similarly staggering 85%, with 11 out of 13, including a number of comebacks which amazed onlookers, who saw near-doomed positions brought back from the brink. Yet another significant contribution came from Nigel Morris, who took a substantial 71%, scoring 10 out of 14.
Division 4 was also won by a Leamington team, with the D team taking 10 wins and a solitary draw from 14 games. A deep and strong squad included newcomer Joshua Altamura taking 88% with 3.5 out of 4 games and three players scoring 100% records: fellow newcomer Richard Stone-Johnston, Sumiran Lohani and Richard Lorch. No squad member took less than 50% from their games, a remarkable statistic.
Club KOs
Two of our KO teams won their sections, the U700 and U120 teams, with the open team knocked out first round. In the U700 Tom Darling was undefeated on board 1 and Captain Jason Madden and bottom board Rob Mantell similarly remained undefeated in the competition.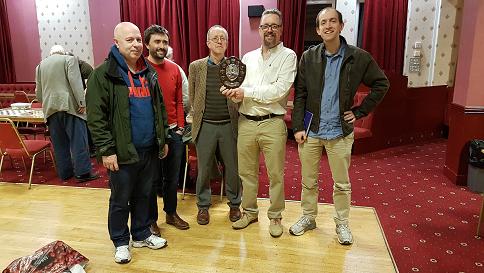 The triumphant U700 team, for the final match, L-R Nigel Morris, Rob Mantell, Rob Gill, Jason Madden (Capt), Tom Darling
In the U120, captain Mark Armitage was also undefeated, ably supported by Joshua Altamura, who won in both the games he played. In the final Roy Hadfield and Peter Leggett both won their games, along with Joshua, which combined with Mark's draw meant an emphatic victory against Solihull.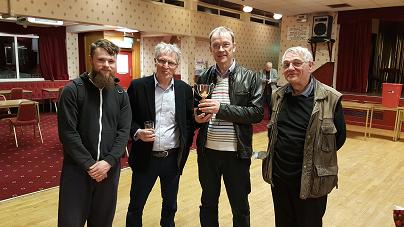 U120 team champions, final match line up, L-R Joshua Altamura, Roy Hadfield, Mark Armitage (Capt), Peter Leggett
Individual KOs
Oladejo Odelaye won the the open competition, seeing off chairman Tom Darling, Peter Drury and Jason Madden, after last year's U150 title.
Joshua Altamura continued his excellent first season by winning the U125 cup, beating Sumiran Lohani, Rob Mantell and Steve Rumsby along the way.
Club Competitions
The KO Cup was won by Tom Darling, who beat Andy Price, Tom Bridson and Sumiran Lohani. Ola won the plate, triumphing over Andy Collins in the final.
Tom D won the All-Play-All for the fourth year in a row with a mighty 23 out of 26. The U125 plate went to Rob Mantell for the first time, with 5/15.
The Club Championship is usually given to the winner of a match between the Club KO and All-Play-All winners; when the same player wins both of these, he plays the plate winner. This meant that Tom D took on Ola in a pair of rapidplays, managing to win both.
The George Boots Shield, given for the best single game performance was won by Peter Leggett for the second year in a row, this time beating a player rated 52 points above him.
ECF National Club Minor Championship
We came runners up in the minor section this year. Good performances from Tom D and Andy C on board 1 were ably supported by a 3.5 from 4 from Peter.
Farewells
Sadly Joshua Altamura moved on from the club after a barnstorming first season, moving to Oxford for work.
Previous Reviews