In memorial
R.I.P. David Hodgkins 1969-2015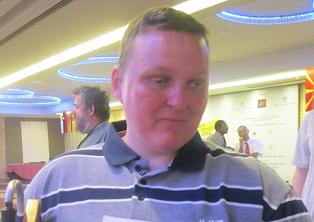 Leamington Chess Club were shocked and saddened in January of 2015 to learn of the death of David Hodgkins, who died unexpectedly in his home at the age of 45. David had played for our B team only a week earlier, gaining a creditable draw with Black against a higher rated opponent, and we all hoped that he would continue to be a part of our club for many years to come.
David was very much an all-rounder, an Olympian in both physical and mental arts. He competed in Judo at the Paralympics of both Seoul and Barcelona, winning a bronze medal to go with his European silver. And, of course, he was a talented chess player who represented his country in Blind Chess Olympiads in Laguna and Chennai. One of his wins from the latter tournament is given below, a quick win which helped Great Britain finish 7th out of 25 in the final group.
David's relaxed and positive attitude to life was an inspiration to all who he met, as shown at his funeral, where the church was packed with over 200 people paying their respects. Our friend will be missed.